SANAA are a Japanese Architectural firm based in Tokyo, comprising of Ryue Nishizawa and Kazuyo Sejima. They started gaining international recognition in 2004, and have only continued the upward climb since, with their designs becoming part of the lives of many world over. Some of their most iconic buildings include Dior Omotesando, The Muesum of Modern Art New York, Kanazawa 21st Century Art Museum, Derek Lam boutique in New York and the winning design for the Sydney Museum of Contemporary Art Competition which was tragically never to be constructed. And, i must add, the spectacular 2009 Serpentine Pavillion in London's Hyde Park, which just opened last week.
Personally, i have always felt a strong connection to SANAA since being assigned one of their buildings, A Police Box at Chofu Station, in my first semester at uni. This tiny little police station dealt with geometry and materials with playfulness, purity, curiosity and respect. This is something SANAA does with ease, creating clean spaces that are simultaneously cold and minimal, while mainting a sense of playfulness or childish curiosity. I often find myself drawing parallels between their architecture and the artworks of Yoshitomo Nara. They both share this sense of childish plafulness while still harbouring something darker and deeper, but by no means repelling viewers/users.
Enough blabbering.
Naturally i was chiffed to find out that SANAA would be exhibiting at The Sherman Institute for Modern Art on Goodhope Street in Sydney's Paddington. The thrill only escalated when i found out that the Institute had commissioned SANAA to create an installation just for them.
I will now stop typing and let you see what i saw.
The installation is part of their series of installations that explores the limits divides and spatial definition, a theme often explored in their architecture through the ranging opacities of materials used and the limits structural exposure (SANAA often employ metal work in order to allow for the thinnest possiby structures to be created).
I was quite lucky to be in the gallery while no one else was allowing me to experience the spaces created by the undulating perspex walls in solitude. I was left feeling at once confined and even claustrophobic due to the narrowness of some of the openings and the sense of activity and crowdedness created by the volumes of rabbit chairs. Never would i have thought this possible while still having a clear view of everything around me, even if through clear walls. The maze completely engulfs you, and you are completely immersed in a maze of shiny reflections of light and sound as you try to navigate your way through invisible doorways.
It was complete dreamy confusion.
I can;t wait to go back and experience it with other people though, i imagine it would be quite different sharing conversations in some of the perspex alcoves, or even communicating while in various locations throughout the maze.
I was greeted at the end of the maze by some of the Institute staff who, after I gushed at them abouthow FFFAAANNNNTTTAAASSSTTTIIIICCCC it was to see SANAA exhibiting in Oz, revealed to me that Kazuyo Sejima herself is on the cards to give a lecture in August.
I can not wait.
To hear an architect who has created her own architectural language that infiltrates all that she does, and is instantly recognisable speak is one of my dreams. That this architect has created buildings in the very domain i am most interested in, for fashion houses, is a huge huge plus.
Kazuyo Sejima (left) at the opening of Dior Omotesando, one reporter asked "Who are you wearing?" to which she replied,
"I only wear Comme Des Garcons!"
<3
A piece by Yoshitomo Nara.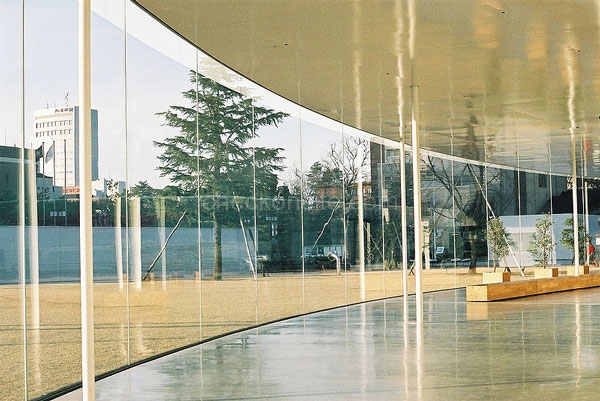 An interior shot near the exterior wall of the Kanazawa 21st Century Art Museum
MOMA New York
One of the spaces beneath the hovering, paper thin silver cloud that is the 2009 Serpentine Gallery
Police Box at Chofu Station
Dior Omotesando
Derek Lam Flagship Store New York