I'm about to start my Post Graduate degree, but have spent the last month or so simply absorbing anything and everything. I'm so full of inspiration i could explode...and I've been drawing a lot more too....i've been having different ideas....amazing what a new haircut can do for a person. :P (i think my head looks smaller...?)
Below is another brain vomit of what I like right now:
1. Some Ideas on Living in London & Tokyo
This book takes a look at urban design from the perspective of two renound architects, Ryue Nishizawa (half of the Pritzker award winning Japanese darlings known a SANAA) and Stephen Taylor who I don't really know all that much about, except that he has nice ideas and represents London in this instance.
The book is based on an exhibition they worked on at the CCA, with scale models and diagrams.
The reason the book was so great for me was to see Nishizawa's idea of a completely transparent house with one room, accompanied by a garden, on each level. I had been toying with this idea of single room levels for quite a while myself, and while I'm sure it already exists in reality somewhere, I feel this idea kind of captures that playful notion of SANAAs works yet again. As doe the seemingly free form glass curtain that encapsulates each room, whose shape is derived from the best potential arrangement of furniture.
Nishizawa's proposals focused on projecting private activity onto the streets, where as Stephen Taylor had a much more western approach, recognising that for most western nations, most people are uncomfortable with performing household tasks in full view of the street, resulting in the addition of perforated screens in one instance, to create this barrier while allowing for an interesting play of light, and some greater visual connection than would normally be achieved. Taylor also raised the issue of Anti-Object, that not every building in a city can be a landmark as it detracts from those that legitimately deserve to be. Houses are for private activity and use, and therefore should have a more polite nature to their form. While this is a comment that would have really "got-my-goat" in my first years of architectural education, i can now see his point, mainly because he presented houses that were no less rich in spacial dynamics, but simply more humble in nature. I can definitely say i will be following up on some more of his work.
One of the gorgeous living spaces in House A. Totally Terence Koh worthy...right?
The roof of one of Taylor's terraces. Anti-Object with interest.
2. Hussein Chalayan : from fashion and back.
My amazing friend,
Belle
, actually bought this back for me, as a gift, after visiting the Chalayan exhibition at MOMA in Tokyo.
Hussein Chalayan always fascinated me. His work seemed to reach beyond what most other designers were pretensting. I hold his work in the same kind of regard as that of Maison Martin Margiela. Truly forward thinking.
THis book has an extensive interview, conducted by Yuko Hasegawa, who has also worked with SANAA on the
21st Century Museum of Contemporary Art Kanazawa
. I had the privilege of hearing her speak along side Kazuyo Sejima on her talk in Sydney, organised by the
Sherman Contemporary Art Foundation
.
The interview gives context to the explanations of each collection presented at the exhibition, and picks Chalayans brain on everything from his graduating collection in which he buried clothes with iron filings for a period, then dug them up and sent the dirty, rusted garments down the runway, to his upbringing and the role of women in his life.
I found it particularly interesting that he spoke so fondly of his mailable clothing, and basically put out a plea for funding, so it could go back into production.
I, for one would die if I received one in the mail and would immediately frame it...like so: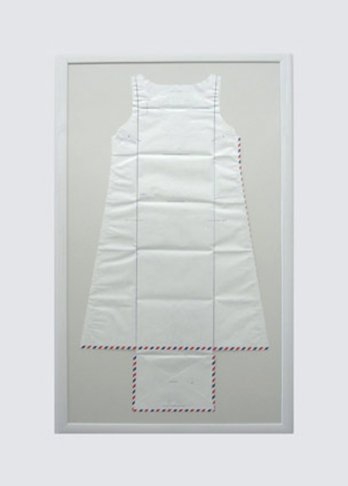 3. Anti-Object by Kengo Kuma
This book is part of the AA Words 2 series put out by the Architectural Association in London.
It basically presents an extended essay with accompanying diagrams, in which Kuma criticizes the faults of modernists who were quick to dismiss works by the likes of
Bruno Taut
, as expressionist works, without looking deeper into their purpose or reasoning.
I am only a few chapters in, but the argument so far presents modernist works, in particular, houses, as objects. They were always raised above the ground and separated from their surroundings with lawns and gardens. This made them very popluar with the media of the time, as they were easy to get photographs of, with their clean plains and lines. Other more expressive works, which may not have photographed as well, but provided a richer experience, were tossed aside and not given the recognition they deserved.
Bruno Taut, I salute you!
The book provided one of the most memorable quotes I have encountered in a very long time. Kuma writes:
"They were sustained in their isolation by the dream of escape from their mediocrity through the possession of attractive products."
It's so perfect, it gives me goosebumps. While I am sure Kuma wrote this with a slight negative tone, to describe the modernist way of life, the idea of "escape....through the posession of attractive products" is definitely something i try to live by, and hope to continue to do so.
4. Grapefruit by Yoko Ono
This book of poems and instructions by Yoko Ono is one of the most delightful books I have ever owned.
It is perfect.
The poems can be read and enjoyed on a literal level, or you can spend hours pondering what if any their deeper meaning could be. Here's an excerpt:
RIDING PIECE:
Ride a coffin car all over the city.
1962 winter
5.
What Courtney Wore Today
A Tumblr account in which Courtney sends photos of her outfit for the day to be posted. As well some amazing archive moments.
Here she is in Givenchy Couture jewelery (THAT I NEED!) styled by Pianos Yiapanis (her personal stylist)
Courtney is also my first musical obsession of the moment. The new Hole album is incredible...all Hole albums are incredible...so is her solo work!
6. Matmos
American couple and musicians Matmos first came to my attention after watching them perform sounds onstage during Bjork's Live at the Royal Opera House London DVD. One moment in particular, when they create the noise of static, by running some apparatus up one of their spines during the song Cocoon was just such a terribly poignant moment, so perfectly fitted to the song, that I needed to know more.
I must admit, at first, I was not as impressed as i had hoped...but once I discovered songs like "Lipostudio...and so on" from their album "A Chance to Cut Is A Chance To Cure", an album on which most of the sounds are taken from actual surgical procedures, I was hooked.
Personal favourite album would have to be "The Rose Has Teeth In The Mouth Of The Beast". It features vocal cameos by Bjork, Antony Hegarty and with a song titled "Tract for Valerie Solanas" in which excerpts from the S.C.U.M manual are read, what is not to love?
Here's the clip from the Bjork concert:
That's enough for now....I might do a post on clothing obsessions tomorrow.